As the City of Boise moves through stages of reopening in accordance with the State of Idaho,
 private ice rentals will resume at a future date with established restrictions and protocols in place to protect coaches, players and all participants due to continued coronavirus (COVID-19) concerns. To resume practice and play at Idaho IceWorld, renters will need to submit a plan of action listing all rules and protocols they will have in place to practice safely for the foreseeable future.
These rules and protocols should consider the following city established guidelines:
All renters must allow for physical distancing of at least six feet between participants, players, coaches and parents during practices.
During times when skaters are not actively participating in practice or competition, attention should be given to maintaining social distancing by increasing space between skaters on the sideline or bench. 
Due to the updated Central District Health public health order that took effect in the City of Boise on August 11th, all Idaho IceWorld users will be required to wear a mask that covers their nose and mouth when inside the facility, with the exception of when they are actively engaged in athletic competition, training, or practice within the confines of the ice surface. Coaches or instructors are required to wear a mask while on the ice at all times. In addition, coaches, instructors and participants not within the confines of the playing surface shall be required to wear a mask.
Drills, conditioning exercises etc. should be conducted in small group settings to keep distance between participants. Practices should not include scrimmages, one-one-one drills and other close contact situations.
All renters must implement frequent hand washing and sanitizing opportunities into all practices or competitions.
Clean all shared use equipment (auxiliary cord, pucks, goals, etc.) frequently throughout the session and encourage participants to clean their equipment before and after use.
No handshakes, high fives or other contact is permitted to promote physical distancing.
Do not allow shared water bottles or snacks at practices.
Carpooling is discouraged to and from practice at this time.
Limit any nonessential visitors, spectators, volunteers, and activities involving external groups or organizations.
Traveling outside of the local community may increase the chances of exposing participants, coaches, and fans to COVID-19, or unknowingly spreading it to others. Teams should consider competing only against teams in their local area (e.g., neighborhood, town, or community).
Do not allow spitting and encourage everyone to cover their coughs and sneezes with a tissue or use the inside of their elbow.
Clean hands frequently. If soap and water are not readily available, hand sanitizer that contains at least 60% alcohol can be used.
Increase the amount of time between practices and competitions to allow for one group to depart before another group enters the facility. This also allows for more time to clean the facility between uses.
Designate a youth sports program staff person to be responsible for responding to COVID-19 concerns. All coaches, staff, officials, and families should know who this person is and how to contact them.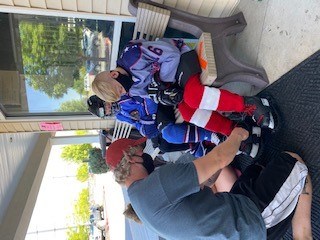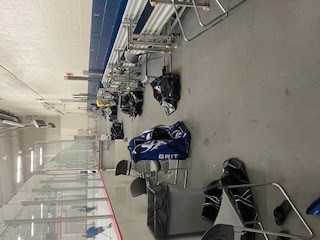 What to Expect When You Arrive
At Idaho IceWorld, there is a "staging area" or "on-deck" gear-up station to prep before their ice time, since locker rooms are currently unavailable.  

And then 15 minutes before the private ice time participants can come in and finish any gearing up 6 feet apart alongside the rink.
Staying Home when Appropriate
Symptoms may appear 2-14 days after exposure to the virus. People with these symptoms may have COVID-19:
Fever or chills
Cough
Shortness of breath or difficulty breathing
Fatigue
Muscle or body aches
Headache
New loss of taste or smell
Sore throat
Congestion or runny nose
Nausea or vomiting
Diarrhea 
This list does not include all possible symptoms. CDC will continue to update this list as we learn more about COVID-19. 
Actively encourage sick staff, families, and players to stay home.
Individuals, including coaches, players, and families, should stay home if they have tested positive for or are showing COVID-19 symptoms.
Individuals, including coaches, players, and families, who have recently had a close contact with a person with COVID-19 should also stay home and monitor their health.
Persons with COVID-19 symptoms who were directed to care for themselves at home, may discontinue home isolation under the following conditions:
No fever without the use of fever-reducing medications for at least 3 full days (72 hours); and
Improvement in respiratory symptoms (e.g., cough, shortness of breath); and,
At least 10 days have passed since symptoms first appeared.
OR
Depending on the healthcare provider's advice and availability of testing, persons might get tested to see if they still have COVID-19. If the individual will be tested, they can return to the field of play when they have no fever, symptoms have improved, and have received two negative test results in a row, at least 24 hours apart.
---
In addition, leagues and teams are expected to design their safe play protocols to match or exceed the following recommendations from the Centers for Disease Control and Prevention (CDC) and Central District Health (CDH). Additional guidance from your professional sport organizations and leagues should also be considered.
CDC- Consideration for Youth Sports
https://www.cdc.gov/coronavirus/2019-ncov/community/schools-childcare/youth-sports.html
Central District Health- Youth Sports Position Statement
https://cdhd.idaho.gov/pdfs/cd/Coronavirus/Resource%20Docs/Youth-Sports-CDH-Position-05-2020.pdf
Required Form to Submit
Contact us via email FIRST about ice availability before submitting the Health and Safety Plan of Action below. Staff needs to verify ice availability before proceeding.
Please submit your health and safety plan via the link below. Be sure to fill out the entire form.